If you believe your headaches result from excessive vitamin D intake, seek medical assistance to ensure, you are not at risk of developing serious health risks. Relying on the most advanced diagnostic equipment and understanding what might be causing headaches, expert doctors offer positive solutions to controlling hypervitaminosis. The experienced and award-winning doctors at Advanced Headache Center will investigate what is causing vitamin D overdose and work out the best treatment plan and multidisciplinary approach to help you live a better quality of life.
Vitamin D Overdose and Its Effects
Most people face a deficiency of vitamin D and need to take supplements to absorb calcium, build strong and healthy bones and keep the immune and nervous system strong. Hypervitaminosis D or vitamin D toxicity occurs due to excessive amounts of vitamin D in the body. Vitamin D is generally considered safe, but overdosage can take place under rare but unusual circumstances.
Overdose also becomes a considerable risk if you take a prescription mega-dose of this nutrient or your body cannot process it the right way. It is a potentially dangerous condition in people who take long-term, high-dose supplements without monitoring their blood levels.
Long-term use of vitamin D can cause adverse effects on health and damage your bones, tissues, and organs. After consulting a physician who will recommend the best dosage depending on your body, you must take vitamin D supplements. After consulting a physician who will recommend the best dosage depending on your body needs not to cause any lasting impairment or manifests symptoms like headaches and migraines.
How Much Is Vitamin D Too Much?
The recommended dietary allowance of vitamin D for most adults is 600 international units a day (IU). Doctors may prescribe higher doses to treat medical conditions such as vitamin D deficiency, diabetes, and cardiovascular disease but for a limited period.
Hypervitaminosis D or toxicity results with massive, long-term doses, 50,000 international units (IU) per day for months which is 80 times more than the recommended amount. Getting too much vitamin D from food or exposure to the sun is almost impossible. Signs of too much vitamin D imply that its levels in the body are so high that they are at risk of causing some serious harm.
Symptoms of Too Much Vitamin D
Symptoms of overdosage develop over time as extra vitamin D can slowly build up in the body. Excessive use of vitamin D might result in the following conditions:
Appetite loss
Constipation
Dehydration
Disorientation
Dizziness
Fatigue
High blood pressure
Irritability
Nausea
Vomiting
Frequent urination
Muscle weakness
Thirst
Tinnitus
Headache
Too long and overuse of vitamin D can also result in other complications, including kidney and bone problems. It can also lead to hypercalcemia, a condition that leads to excessive calcium in the blood.
Seek immediate medical help if you are experiencing these symptoms. Provide complete details about any supplements, medications, and substances you are taking along with their dosage to help the doctor diagnose your condition accurately and provide relief. To confirm the presence of vitamin D overdosage, the doctor may also recommend tests to check your blood serum levels.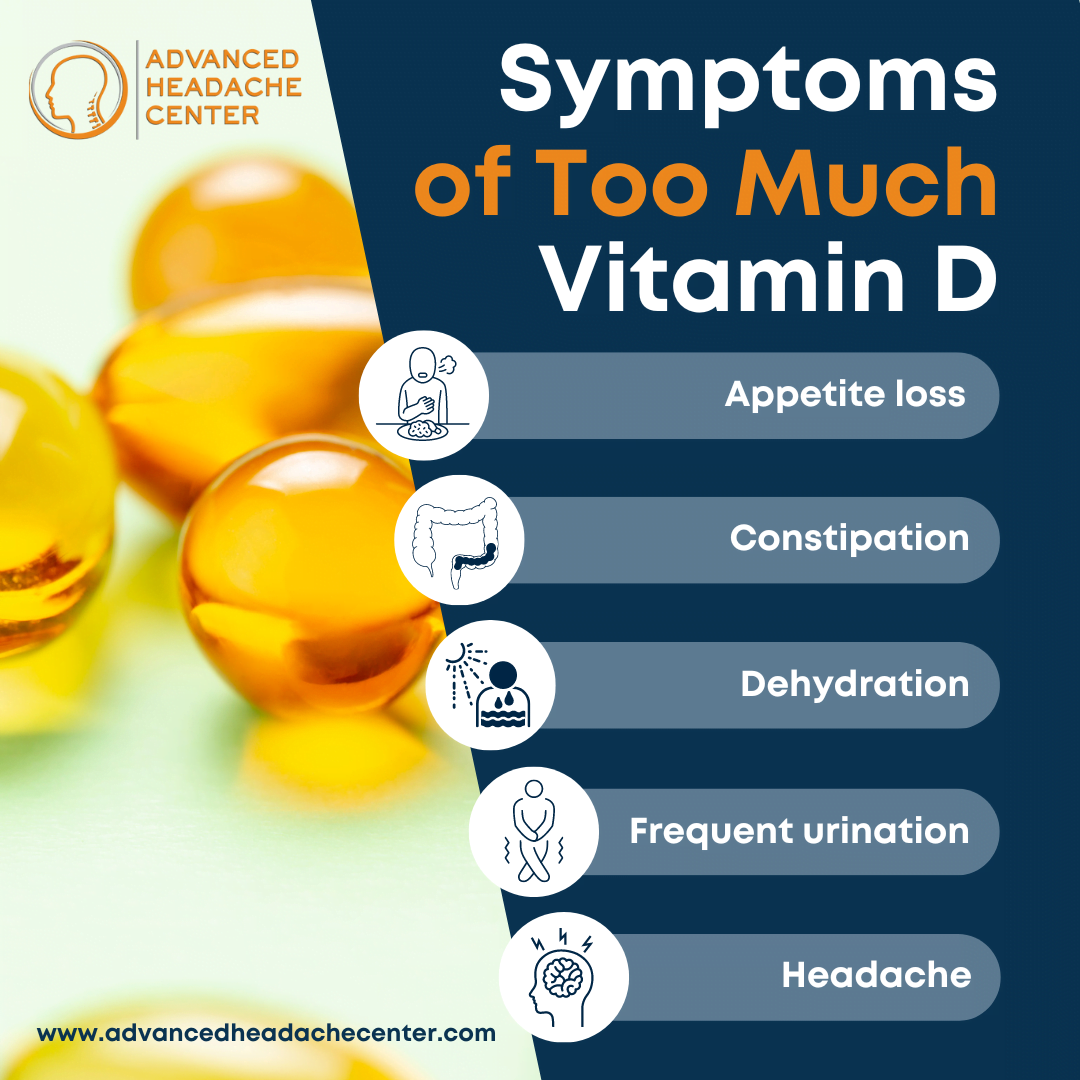 What Causes Hypervitaminosis D?
It mainly results from taking more than the recommended daily value of vitamin D. Also, the regular use of high-dose vitamin D supplements for several months can lead to hypervitaminosis.
Other causes include:
Medications for treating blood pressure and heart diseases
Taking antacids for a long time
Estrogen therapy
Antituberculosis medication Isoniazid
Tell your doctor about any medications you are using before starting with vitamin D supplements. You may not require additional calcium or vitamin D if you get sufficient dosage from the recommended multivitamin. The doctor will keep an eye on your medications and change them after some time to prevent short and long-term vitamin D toxicity.
How Too Much Vitamin D Causes Headaches?
Vitamin D has been associated with headaches depending on its intake levels and the toxicity it causes. Too much vitamin D can lead to disorientation, dizziness, fatigue, high blood pressure, irritability and nausea, and vomiting that triggers headaches.
Vitamin D is essential for the body as it helps it absorb essential minerals it needs to function. Most people take vitamin D supplements when they cannot get the required amounts of vitamin D from their diet or exposure to the sun. Excessive use of a supplement or long-term usage of high dosage can lead to unexpected primary headaches, including migraines and tension-type headaches.
It is necessary to consult a specialist who will run some tests and diagnose the reasons behind the headaches, as these painful episodes might result from some underlying medical condition. The symptoms of too much vitamin D can be treated with medication but eliminating the source of the excessive vitamin is also necessary.
Vitamin D is necessary for physical and mental health, but one should use it carefully. You must consult a doctor before taking or changing any supplement to derive its benefits. Vitamin D toxicity can have serious health consequences, which may not show up until months or even years after taking high doses.
You must visit a medical practitioner and discuss your symptoms if they begin to affect your routine life and habits. The expert pain doctor at the Advanced Headache Center will determine the causes behind your symptoms and help to manage your intake of vitamin D to prevent toxicity and its effects.
Dr. Amr Hosny has either authored or reviewed and approved this content.
Advanced Headache Center
41 5th Avenue,
New York, NY 10003
(646) 419-3105